We might claim to never judge a book by it's cover, but more often than not we do! If we have a choice between two independent businesses, one presented better than the other, we will more often than not put our trust (and therefore our custom) with the prettier of the two. That is why it's extremely important for a local shop to present itself in the best possible way – without stretching the budget. We've put together some local shop design ideas to help put new life into your business.
Design Ideas to Consider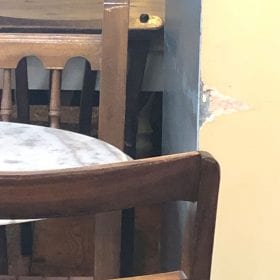 Has it been a while since the space had a revamp?
Has the space succumbed to wear and tear from high levels of traffic?
If this wasn't my business, would I think it looked tired?
If you answer yes to any of these questions then it's time to consider sprucing up your space.
Don't worry, when it comes to local shop design ideas you really don't need to stretch your budget. Using wall panels transforms a space and keeps control of the purse strings!
Local Shop Design for Coffee Shops and Bars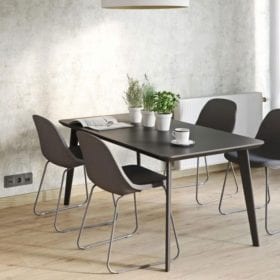 General everyday wear and tear happens, especially in food and drink venues. You may find that the counter area has begun to look very tired, painted walls around the seating area no longer scrub up well, or the toilet areas no longer sparkles. Wall panels are a low cost, stylish way to fix many of these issues quickly and with little mess.
Counter area: Very often the wall around a work surface suffer from frequent splashes and ends up stained and impossible to clean. Even water marks around sink areas, though completely harmless, may look unsightly. By using wall panels as splash backs you resolve this on-going issue as the splash area becomes wipe clean and easy to maintain.
Seating area: The seating area often offers similar challenges when it comes to splashes on the walls. Customers may spill things and little people may rub sticky fingers into painted walls. By installing wall panels on the lower half of your walls you make these troublesome zones much easier to maintain. Any marks can be easily wiped off and style doesn't have to be compromised given the wide range of designs available.
Toilet area: It's important you don't forget about the toilet area of your premises; often the tile grouting becomes stained and hard to clean. Wall panels can be installed directly over the existing tiles to quickly transform the space. Using wall panels in a toilet space makes the area much easier to service and maintain, and they look great too.
Local Shop Design for Hair Dresses and Salons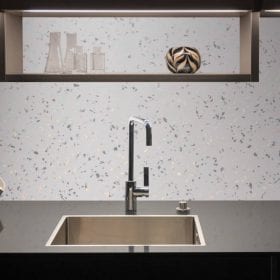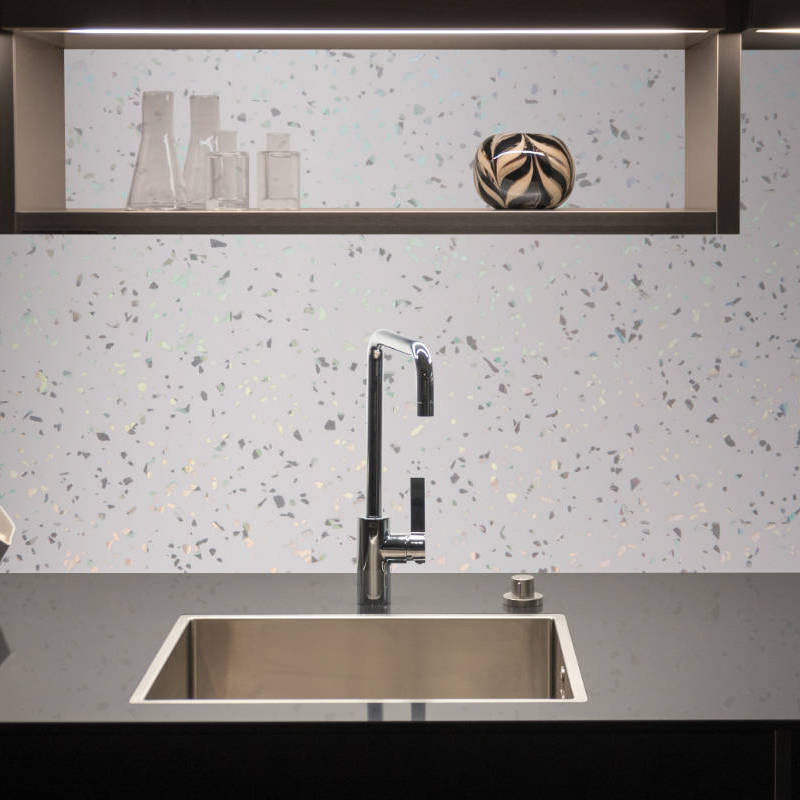 If you're thinking of local shop design ideas, when it comes to hair dressers and salons you inevitably think glamorous, chic, and stylish. With the high humidity in such premises, it doesn't take long for high end but impractical design solutions to age. Using plastic panels can help avoid issues caused by moisture.
Entrance counter: The first thing your customers see when they enter is your welcome area, therefore it's important that this area is striking and reflects the personality of your business. By using wall panels with a bold design or eye catching features you can achieve a finish that is striking, on trend, and easily maintained.
Sink area: The sink area is probably the area of a salon that is most difficult to keep looking new. Shower spray and product cause splashes that can soak into wooden or painted surfaces. Plastic panels can be used to cover these porous surfaces thus providing a lower maintenance area. Plus, with the ranges of wall panel available, you can achieve the on trend entrance area look without compromising on practicality.
Kitchen area: Whilst often simply a kettle and a microwave, the kitchen area can still be a victim of splashes and stains that are hard to clean off painted walls. Even the smallest of kitchen areas can benefit from wall panels being installed in the splash area. The panels will make cleaning a doddle, and may even mean staff are more inclined to clean up after themselves!
To help inspire some local shop design ideas, we've put together some Pinterest boards: