To get straight to the answer: you can use our plastic wall panels as public toilet wall panels. If we're being honest, we'd recommend that you do because they're perfect for the job! Here's some of the reasons why…
Toilet Wall Panels are Stylish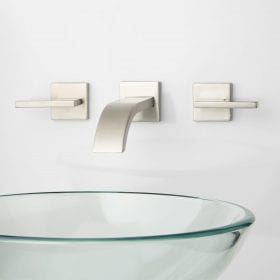 Very often as a business owner your public toilet is bottom of the priority list when it comes to style; you just need a toilet that is serviceable. You have to admit it though, people do comment on a venues toilet – whether good or bad.
So, should you have to compromise on style for practicality? We think you can have both; public toilet wall panels can look fantastic and still be practical. With the range of styles on offer you won't have the compromise the look. First of all you need decide which style you want to go for.
Style Options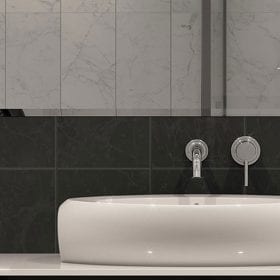 Sleek: Very often clean lines and a minimalist style is all you need. You might be a small office and need a corporate look. Using crisp white plastic toilet wall panels will easily achieve a professional look.
Classic: If you're after a more traditional finish, using classic marble or tile for your toilet panels will instantly transform the space. Marble panels are available in a wide range of shades, and tiles come in a whole host of styles. With such a variety of panels available there's guaranteed to be a finish to suit your design requirements.
Modern: It's often difficult to tell that some of the modern designs are plastic wall panels at all – the finish is so realistic you'd think you're looking at the real thing. With styles such as brick effect, or slate available for public toilet wall panels, there's no reason not to continue your front of house vibe right through to the toilets.
Toilet Wall Panels are Quick to Install
There's not much we can say for this one other than: putting up toilet panels is quick, and easy!
You often don't have to take down the existing tiles; just make sure they're flat and not loose, and you can fix your new toilet panels straight to them. Plus, in many cases you can do the install yourself so you don't have to wait for your builder to be available.
Toilet Panels are Easy to Keep Clean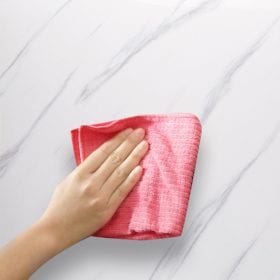 Very often as a small business owner the thought of having to maintain your customer toilet may fill you with dread. Your grouting may need to be scrubbed, and any porous surfaces like painted plaster or tiles may not always come up clean. Installing public toilet wall panels can solve these problems by making your toilet much easier to maintain, and therefore more hygienic. The wall panels are made from PVC plastic which won't absorb any moisture and splashes can be easily wiped off. To clean the toilet panels just take a damp cloth or mop, and a cleaning product suitable for PVC and wipe clean.
Toilet Panels are Cost Effective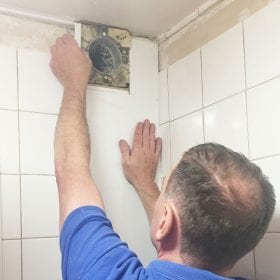 For a small business owner cost is often the most important aspect of any job. It might be assumed that installing wall panels is expensive, but that isn't the case! Unlike new tiles or a re-plaster, there is minimal preparation needed to install panels. Provided the original surface is clean and sturdy, you can fix the new panels straight over the existing walls. All of this means less material costs, less labour costs – and if you do the job yourself, no labour costs! Plus, if you're lucky enough to have a cleaner, you may be able to reduce your cleaning bill as they'll take less time wiping toilet panels than scrubbing painted plaster, grout, and tiles.
We hope you're now in agreement that if you're looking for public toilet wall panels, then regular plastic panels are the ideal solution. Take a look at our range to find the style to suit your install…