Retail premises are subject to high foot fall and therefore need flooring solution that is robust and easy to maintain. Shop flooring also needs to fit with the design of a space without stretching what is often a tight budget. You may not have considered vinyl shop flooring before. You may think vinyl is just for a home. CleverClick Plus vinyl flooring is an excellent way to achieve a quality look that is stylish and long lasting. We've put together some of the benefits of vinyl shop flooring to help you get on board…
Vinyl flooring is stylish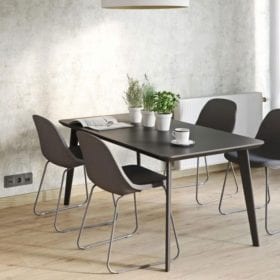 With wood and stone styles available in the range, we're confident there will be a finish to suit your needs. Vinyl shop flooring doesn't have to be boring; you can opt to use a selection of finishes to differentiate zones within the same room. For example vinyl shop flooring can be used to great effect coffee shops to guide your customers. A completely wood effect install can be broken up with a path of stone effect. The path can be used to guide customers from the door, to counter, to seating area. If you think outside the box, you can achieve some amazing results when mixing floor textures!
Vinyl is durable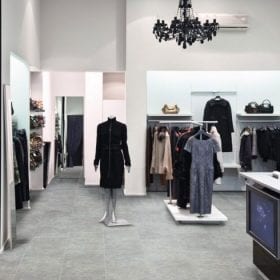 Made from sturdy vinyl, CleverClick Plus vinyl shop flooring has a 0.55mm wear layer. This thicker than normal wear layer makes the flooring system perfect for use in high traffic environments such as public spaces. Once installed the CleverClick Plus system provides a non-slip surface that is quiet underfoot – an often little considered attribute that means background noise from shoes and dragged furniture can be minimised. It's also worth noting for extra peace of mind that this range of vinyl flooring comes with a 10 year manufacturers guarantee when used in a commercial space.
Vinyl floor tiles are easy to install
CleverClick Plus vinyl flooring offers an easy to use tongue and groove system where all the tiles click together to form a secure surface that is scuff and stain resistance. There is often no need to remove the original flooring – provided the original tiles or boards are not loose, you can install vinyl floor tiles right on top without the need for glues or adhesives. An extra benefit to consider is that CleverClick Plus vinyl flooring is suitable for use with under floor heating systems.
Vinyl shop flooring is low maintenance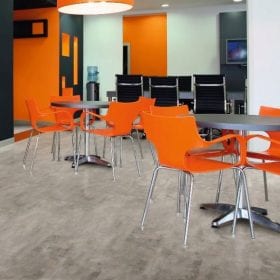 Once installed the on-going maintenance of vinyl flooring is minimal. Cleaning the floor does not require special products; regular vinyl suitable detergent and a mop is sufficient. The waterproof nature of the flooring means, unlike tiles or wood, regular sealing or vanishing to protect the surface is unnecessary. Plus, because the flooring is scuff and stain resistant, the regular wear and tear of a high footfall, or spill prone environment will have less effect than on regular wooden or stone floors.
The range