Vinyl click flooring for bathrooms
There are many types of vinyl click flooring for bathrooms. Available in wood effect or stone effect, vinyl click flooring features vinyl panels in your desired design that interlock and click firmly into place for a secure fit. At AllPanels, we offer Clever Click vinyl flooring – a high quality, luxury range of vinyl flooring. Clever Click is ideal for bathrooms – each panel is 100% waterproof and once installed is easy to keep clean. Plus unlike tiles, if you don't have under floor heating, Clever Click flooring is warmer underfoot so you won't be stepping on to ice cold tiles after your shower.
Stone or wood – it's your choice
The properties of Clever Click flooring are the same regardless of the design you pick. You'll benefit from an easy to install, low maintenance floor irrespective of whether you pick a stone finish, or a wood effect. That means the choice is purely down to your personal style preferences. Think about the overall feel of your bathroom – if you have stone walls you may wish to contrast that with a wood effect floor. If you want more help in picking your floor design, head to our previous article: What vinyl floor style should I pick?
Installing is easy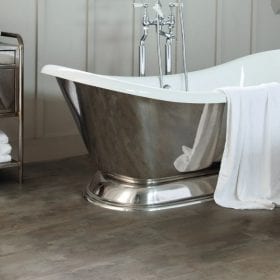 Vinyl click flooring for bathrooms is easy to install. If you're a competent DIYer, you could most likely do the job yourself. Vinyl flooring panels will need to be cut-to-size to navigate obstructions on the floor such as pipes or bathroom suites. You can cut the panels easily with a builders blade. Once you have the panels at the correct size, they click together easily for a secure, professional finish.
You can lay Clever Click flooring onto your existing floor surface, provided that surface is sturdy and even. For extra cushioning, or sound-proofing, you can also use underlay if you wish. Though underlay is not always necessary. Another benefit of using Clever Click flooring is that you don't need to use any adhesives – this is a mess free, floating floor installation.
If you want to know more about doing the job yourself, read our guide on how to install vinyl flooring.
Browse our range of vinyl click flooring for bathrooms