When considering vinyl floor style, you need to consider three things:
Which room is the flooring for?
How much footfall will the area get?
What look am I going for?
It might seem a little odd to not consider the look until the final point, but the room and footfall may have an influence on the overall look you come to choose.
How does the room effect my choice of vinyl floor style?
Vinyl flooring is available in two varieties; wood effect, or stone effect. Whilst both are quiet underfoot, and look fantastic and very realistic, it's down to personal preference as to which you prefer for your chosen room. Let's look at what you should consider when thinking about the various finishes: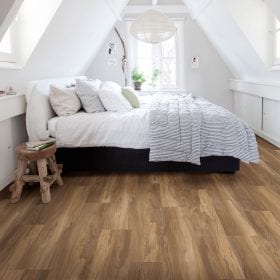 Wood effect – Wood effect vinyl flooring offers a very traditional feel to a room. The Clever Click system gives the impression of high-end wooden flooring, but for a fraction of the price. Clever Click wood effect vinyl flooring is quiet underfoot, which means that you can get the look of exposed floorboards, without the inevitable noise. The wood effect vinyl flooring range is ideal for pretty much every room; bathrooms, bedrooms, kitchens, living rooms, or hallways!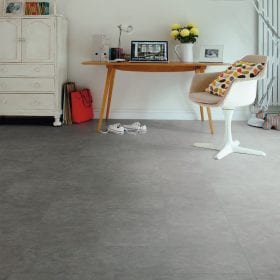 Stone effect – Stone effect vinyl flooring gives a chic, cool feel to a room. The tile Clever Click system gives the impression of expensive stone tile flooring, without the price tag. Unlike real stone flooring, Clever Click vinyl tiles are insulating underfoot and provide a slight cushion to dampen the sound of footsteps. All these attributes make stone effect an ideal flooring solution for bathrooms, kitchens, or hallways.
Why do I need to consider footfall?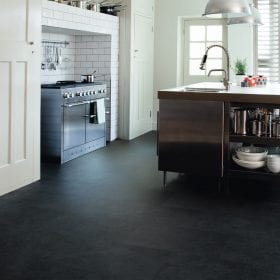 Lower footfall – If you are looking at replacing the floors in your bathroom or bedroom, footfall levels will likely be at a minimum. That being said, you still want a robust solution that you will not need to replace in a hurry. Clever Click vinyl flooring is idea; it has a 0.3mm wear layer, which is perfect for rooms such as bathrooms and bedrooms.
Heavy footfall – Rooms such as kitchens, living rooms, or hallways might see slightly elevated levels of footfall. These rooms will need a strong, durable flooring system that can withstand slightly increased traffic. Clever Click is ideal for any room in the home and will be able to withstand regular day-to-day family life. If you do expect significant levels of footfall – maybe you're a holiday let who sees a high turnover of visitors – then you may wish to consider Clever Click Plus. Clever Click Plus offers a slightly thicker wear layer – 0.55mm – which is ideal for high traffic environments.
Considering the end look when choosing your vinyl floor style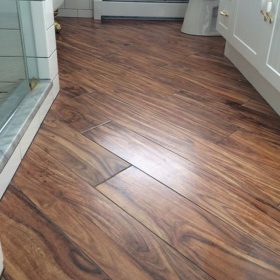 Design – Think about how the wood effect, or stone effect might fit in the overall design of the room. If it's a minimalist design you are after, you might want to consider stone flooring. If it's a traditional, rustic vibe then wood flooring might be more appropriate.
Position – When laying your floor, consider thinking a little outside the box. You don't need to always have your tiles left to right, or front to back. Why not lay them at a 45 degree angle? Experimenting with the way you lay your flooring can give a striking finish to a room.
Our ranges