There are many types of vinyl flooring on offer, all with varying benefits. When choosing which is best for you, it's important to consider the finish you're after – from an aesthetic and usability perspective.
Do you need something that fits into an existing decor scheme? Do you need something that's completely waterproof? Or are you unsure about what the different types have to offer? Let's take a look and find out…
Linoleum – should it really be included in types of vinyl flooring?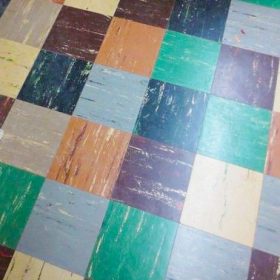 Also know as lino; it's old school and the mention of it often takes your mind back to days gone by. School classrooms, or your grandma's kitchen? Did you know that lino isn't vinyl flooring at all? It's a natural product that's made from solidified linseed oil, among other things.
Whilst sharing similar properties to various types of vinyl flooring – lino is flexible and easy to lay – it's prone to wear and tear, unlike vinyl. One of the biggest differences between lino and vinyl is that lino is only water resistant, not waterproof. If it's used in damp environments it can curl at the edges, and can start to mark if it's exposed for water for long periods of time.
Vinyl rolls – often the first thought when it comes to types of vinyl flooring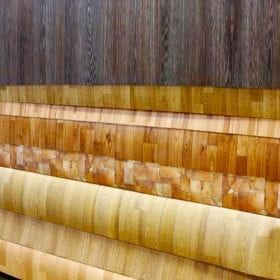 When people think of types of vinyl flooring they often assume vinyl rolls and linoleum are the same thing, but as we now know they are not! Traditionally, vinyl flooring is available in rolls of predefined widths and lengths. Many styles are available from regular tile or wood, to more out there patterns and designs.
Using vinyl rolls is very straight forward; you cut your piece, pick your underlay, lay it on a suitable base, and you're done. Issues can occur if you have a large space; you may find you have seams in inconvenient places as you are limited by the width of the roll. Plus it's often obvious that you've used a roll vinyl, and you cannot always be as creative as you'd like when buying by the roll.
Luxury vinyl tiles – the pinnacle of vinyl flooring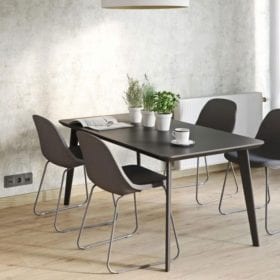 The last option when discussing types of vinyl flooring is luxury vinyl tiles. They are the newest kids on the block when it comes to vinyl flooring. In our opinion, of all the types of vinyl flooring, vinyl tiles are by far the best.
They look as good as the real thing, whether real wood panels, or stone tiles. Plus they have the added benefits of being completely waterproof, insulating underfoot, and very easy to install. If you're feeling creative you can always mix and match colours and styles to get a truly unique look!
What's available?
Check out our range of vinyl floor tiles; CleverClick vinyl flooring. The range comes in stone and wood effects, and the CleverClick Plus vinyl flooring range is ideal for high traffic areas.