It is important to have waterproof flooring in a number of situations; you may have a bathroom you are renovating; you may be redoing your kitchen; you may even be redecorating your hall and be considering the effects of wet shoes on the floor. We've taken a look at what options are available to you, and at what budget, when it comes to waterproof flooring.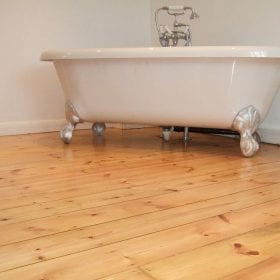 Make do and mend existing wooden floors
When looking for waterproof flooring for a bathroom, for example, one option available to those with older houses is the simply remove your existing flooring and restore the floorboards underneath. Restoring existing floorboards can be a beautiful addition to a room, giving a look that is in-keeping with the age of the house. There is often a lot of work involved in restoring original flooring… firstly you will need to sand the boards back to remove any damage or marks. Once sanded and the dust cleaned up, the boards will need to be varnished to seal them. The process can be very time consuming, and given that you'll need to hire a sander it can be quite costly even if you do the job yourself.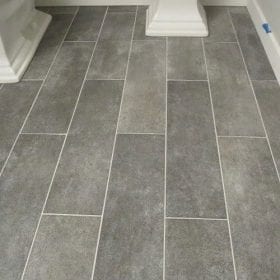 A popular waterproof flooring solution is tiles
Tiles are probably the most well known waterproof flooring solution. They tend to be hard wearing, and once laid will not need to be replaced for years to come. The main downside of tiles as a waterproof flooring choice is the cost. The tiles themselves tend to be expensive, especially if you opt for more unusual styles or need to cover a large area. Plus, unless you are very skilled it's not recommended to try and tile an area yourself, so you will have the expense of needing a professional tiler to fit them.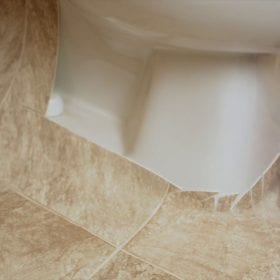 Traditional vinyl roll flooring
A very low budget option for waterproof flooring is to opt for vinyl roll flooring. Bought and laid like carpet, vinyl roll flooring is bought by the metre and cut to fit around the fixtures and fittings in the room. As waterproof flooring, vinyl roll sheets tend to be quite thin and therefore if you want to avoid lumps and bump, will need an underlay to be fitting first. This can increase the cost of the install. Vinyl roll floors tend to not be hard wearing and will need to be replaced after a few years.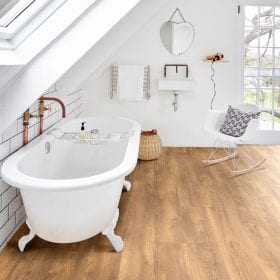 Clever click vinyl tile waterproof flooring
Clever Click waterproof flooring has the look and style of real tiles or wooden floors, but without the work or cost of achieving the look! Clever Click is a waterproof flooring choice that is easy to install – it can be laid over existing flooring, and does not need any glues or adhesives. You won't need a professional tile to install it, and it doesn't have the mess of restoring existing wooden floors. You can truly get the look, without the work, mess or cost!
Our range of Clever Click flooring