If you have guests coming this Christmas or New Year then you probably want to make sure your house is looking it's best. Don't let the downstairs toilet decor fall by the way side when you've covered everything else… The pile of papers that's on the side table 360 days a year just cannot stay there for the few days over Christmas. If guests are coming even the clean dishes can't stay laying around on the draining board. To show just how house proud you are every scatter cushion is constantly plumped and looking brand new. Just make sure the downstairs loo gets the same treatment.
Downstairs toilet decor; let's start with the floor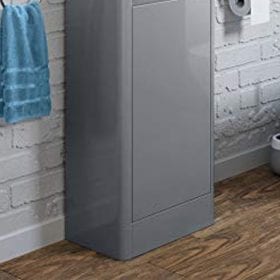 Often the downstairs loo is rarely used and therefore has been somewhat neglected over the year, so first off make sure it hasn't become a bit of a dumping ground for stuff. Once you've cleared the room, give your floor a quick glance over – are there any stains or is there any damage? If you've tried your best to fix the issues and they won't come up quite as well as you'd hoped, then look into quick and easy options for replacing your flooring. Clever Click vinyl floor tiles are a great option because they do down of existing flooring and don't requite any adhesives to fix.
Flooring options
Are the walls looking good?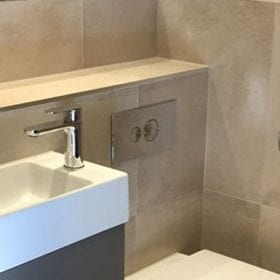 If your toilet walls are looking a little tired and are in need of some TLC save yourself the mess and effort of painting them by putting up some PVC wall panels. You can get a luxury look of tiles or marble – and in a small space that can make a big different – but without the effort or cost involved in installing the real thing. You could even go for more contemporary looks like bare brick or slate, the choice is yours and they're all really easy to install.
Toilet wall options
Don't forget the toilet seat!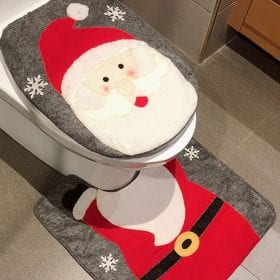 First off, simply make sure your loo seat is looking its shiny best. It might be thoroughly clean, but even the slightest mark might make guests question how ship-shape your house is kept. If it's not looking as good as it once did then just pop out and get a new one. They're really easy to replace and can make or break your loo.
Once you're happy the loo seat is looking it's best, and if you're feeling daring and want to go full-on-festive, you can go in search of some toilet specific decorations. Mats, seat covers, loo roll covers – it's amazing what you find on the internet these days! We'll leave those choices up to you.
A downstairs toilet needs posh soap and towels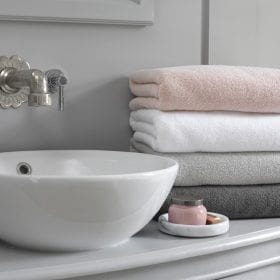 The final touch to your downstairs toilet decor is the accessories you fill the room with. Instead of a bar of soap, of kitchen hand soap, opt for a luxury looking liquid soak that is accompanied by a hand cream. These don't have to be expensive, you'll find them in your local supermarket. Highlight the colour of the soap and cream with complimentary hand towels to complete your look.