What is the Pantone Colour of The Year 2021?
With the events of 2020, and the added blow of the UK 2021 lockdown, the drive of hope and a sense of normality and togetherness has never been so prominent. Timely, Pantone released their Colour of The Year 2021, with not one, but two colours, PANTONE 17-5104 Ultimate Gray + PANTONE 13-0647 Illuminating.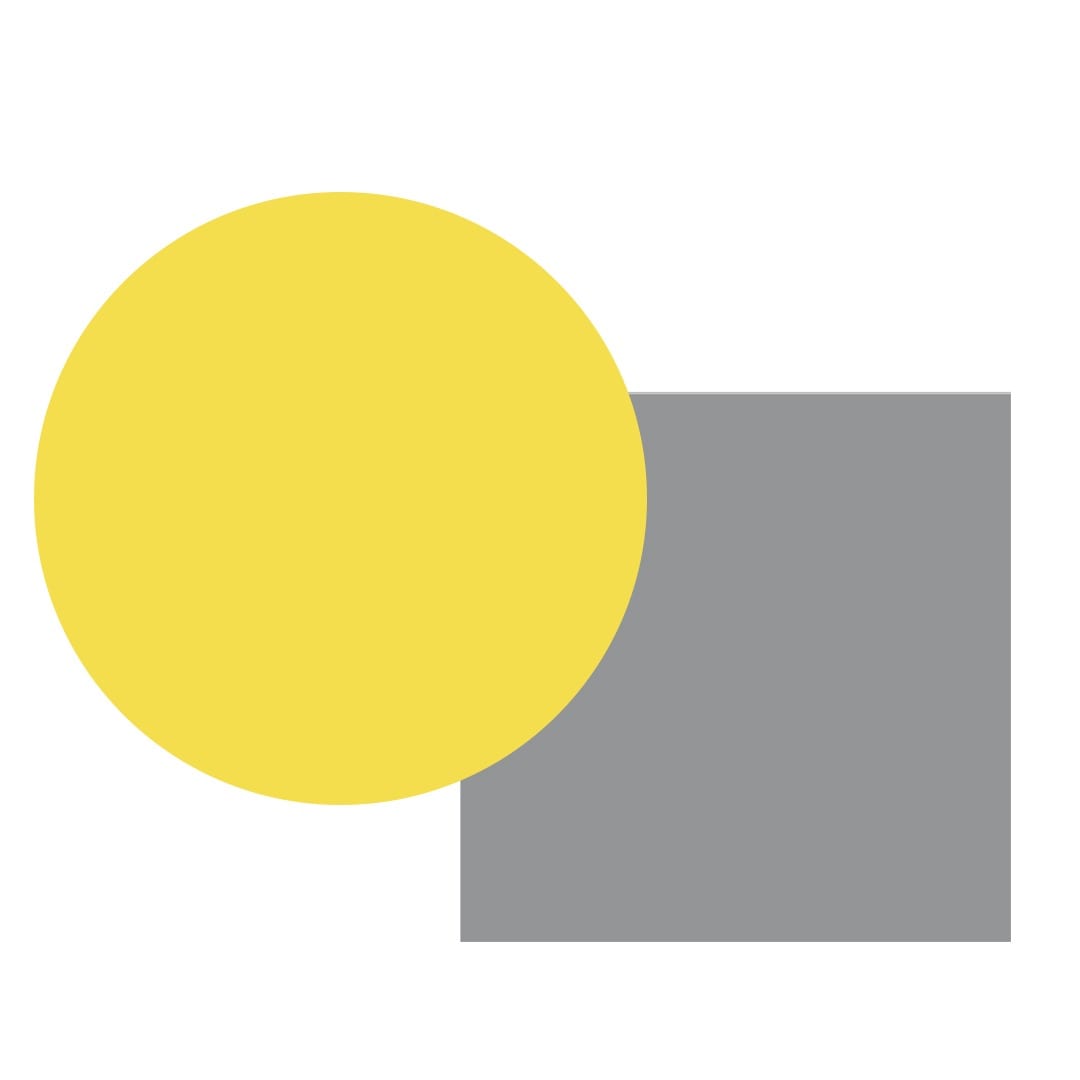 Colours have the psychological ability to incite different emotions within people. Just as the sun is bright and cheerful, giving us energy and warmth, yellow tones incite feelings of happiness, optimism and playfulness. Alternatively grey shades provide the emotional significance of neutrality, dependability and security.
"A marriage of color conveying a message of strength and hopefulness that is both enduring and uplifting." -Pantone
Pantone have used their expertise to match two colours that will encourage us to take hold of our lifeline of hope and ground us with the things that really matter in our lives. When using yellow and grey together, the light cheerfulness is mixed with loyal serenity, uplifting your mood and creating the perfect palette for your living spaces.
How do I incorporate yellows and greys in my home interior?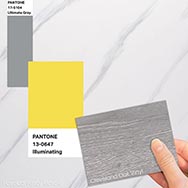 Whether you are looking for simple touches to update your space or you want to do a complete redesign, we have different ideas for you to choose from. Time to freshen up your house, get ready to welcome back your loved ones, and help it feel more like your home.
Decoration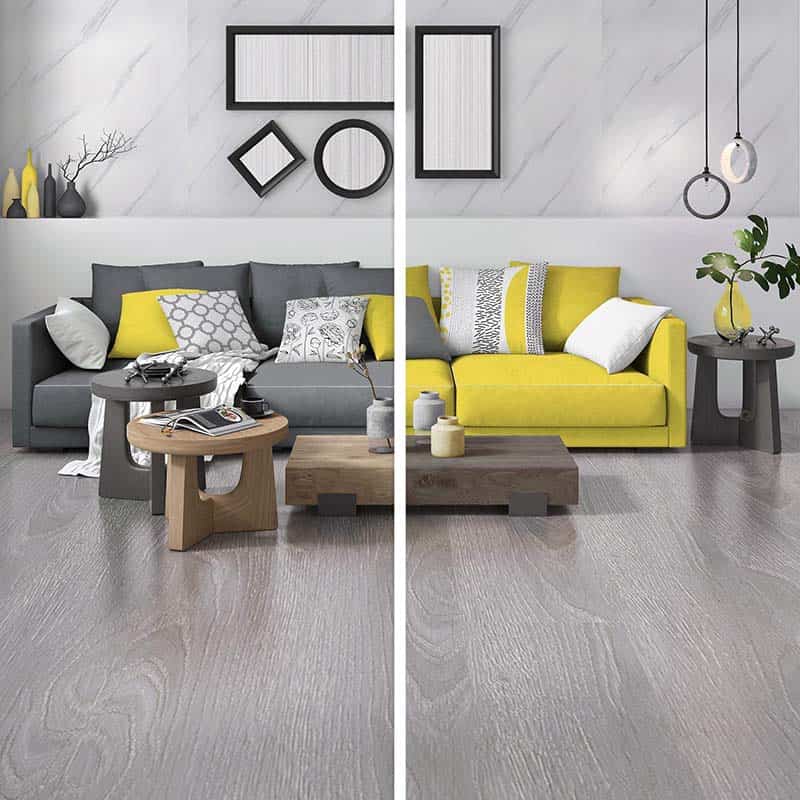 Using grey shades in your walls or flooring can create a peaceful and secure atmosphere. On walls, break up a dark grey with subtle textures and patterns with lighter greys, ash browns or white. You could also colour block with grey on your feature walls to frame your room or on a fireplace wall, as a way to anchor a larger living space. Depending on your style, flooring with a texture such as stone or wood grain can help reiterate a calming, earthy environment. Alternatively you can go with an industrial look and choose a grey concrete or metallic flooring to elevate your room.
Furnishings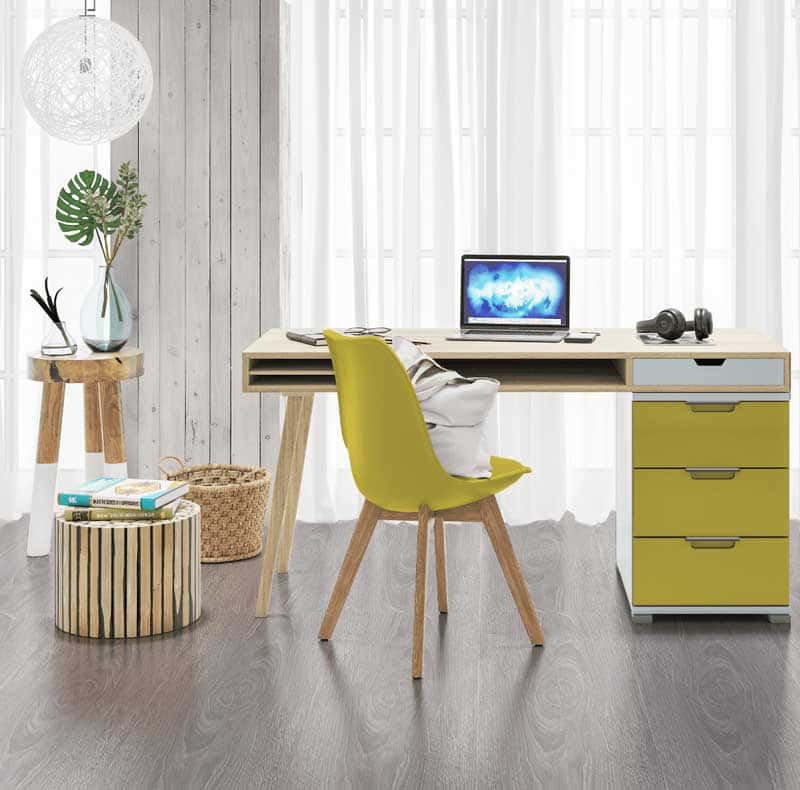 Using a grey backdrop allows for playful creativity as you add furniture and accents to complete your space and make it liveable. You can be bold with yellow furniture as a focal piece to draw the eye, with complimenting greys and white shades in the backdrop. If you prefer a subtle look, pair yellow cushions, vases or artwork in the room with a grey sofa. Consider how you use the space, if the layout as well as combination is welcoming and do not be afraid to experiment with patterns in your cushions or rugs to tie in the colours and animate your room.
Embrace Versatility
If 2020 has taught us anything, it's how to adapt. The same adaptability should be applied to your living spaces. If you want a temporary fix and prefer to use soft furnishings to liven up the place for summer, or you want to go with a full renovation, keeping your foundations versatile with a neutral backdrop using grey can compliment a myriad of design ideas that may change over time. Consider using wall and flooring panels as a quick and painless alternative to expensive marble and wood options. They are easy to install yourself, very durable and cheaper than traditional materials, without compromising on quality and aesthetic.
Make your house feel more like a home and easily redesign your spaces incorporating a colour palette that uplifts and embraces everyone inside.
Browse our range of wall and floor panels